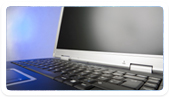 You depend on your computer for everything. From setup to repair to security, Resinate will take care of all your needs. We have the skills, tools and dedication you can depend on.
Resinate can:
Install and repair Windows and Mac Operating Systems
Your system is as weak as its foundation. The knowledgeable professionals at Resinate have countless years of experience installing both Windows and Mac OS X operating systems and can make sure everything gets installed correctly the first time. Upgrading from Windows XP to Windows Vista or Windows 7 can be a daunting task when you don't know where to start. Resinate will check the compatibility of your existing devices, hardware, and software applications to make sure there are no device conflicts, drivers issues, or installations errors so that your system operates smoothly.
Hardware Installation / Diagnostic / Repair
Whether you just purchased a new computer and need it setup, upgrade to a larger hard drive or more memory installed, We can help. We can install your new printer, hard drive, memory, and scanner or other hardware device?
Is your printer, microphone, hard drive, scanner acting up? Resinate can install any piece of hardware! Resinate can tell you what's wrong! Resinate can fix it!
We service most major brands.
We have a team of professionals to cater to all your repair and replacement needs.
We offer cost-efficient solutions in hardware installation, diagnostic, and repair whether onsite or remote.
Do you want your computer to perform at its best? Resinate can repair or upgrade your system onsite or remotely.
Software Application Installation and Troubleshooting
Are you tired of sitting on hold for customer service, only to find out they can't help you? Resinate will help! We are focused on your IT needs - computer systems, operating systems, and third-party software applications.
From video games to spreadsheets, Resinate can install and troubleshoot all kinds of software.
Resinate can:
Determine computer compatibility to install/ repair and configure software
Update necessary software
Create desktop, quick launch bar, and start menu
Installing software isn't child's play. Let the experts at Resinate install/ troubleshoot your software for maximum functionality.
Email Setup and Diagnostic Services
If you want to learn to create and use e-mail, Resinate's your answer!
Resinate can:
Solve any of your email problems in Windows Vista, Windows XP, Windows 7
Fix problems in sending and receiving emails
Transfer emails from one account to another
Recover emails you thought were lost
Increase email security
Security warnings
Restore email accounts
Sync email
Spam problem
Virus/Malware Removal
Your computer is slow, your homepage has changed, it locks up, countless pop-ups! Resinate can identify the problem! Your computer may be infected with malware, spyware or a virus!
Let Resinate get your system up and running again. We will get rid of the problem.
Slow performance
System lockups
Internet Explorer lockups or errors
Nonstop "pop-up" ads
Homepage has changed
Internet or Email access is unusually slower
We strive to ensure the privacy of your confidential and private information while helping your computer get rid of the malware or virus.
How we do it:
Identify the Problem –our experts will identify and determine how bad the issue is.
Fix the problem (onsite or remote)
Hardware and Software Training
We can turn you into a computer pro with one-on-one or small group training for:
Apple Mac OS X
Microsoft Office
Microsoft Windows 7
Microsoft Windows Vista
Resinate training includes:
Basic PC/ Mac skills
Software
Digital photo, music, video
Resinate can customize training to fit your unique needs, no matter how simple or complex.
Data Recovery
If your computer says sayonara…call Resinate! We will attempt to recover lost data. We are committed to help recover your data without delay.
Gone are the days when you had to take your computer to the local shop and then wait for days to get it repaired and back to you. Resinate can repair your computer on the spot, without delay. Mac, Sony, HP, Dell or any other computer, we can repair it. We are just a mouse click away!