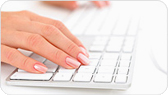 If you are looking for a technology support provider who offers top notch services and has a proven track record, you are in the right place. Resinate, LLC is a multidisciplinary technology support and solutions company providing first-class IT support to small to medium scale businesses as well as residential customers in the Atlanta area for more than a decade. Read More
Our Mission Statement

Technology Working For You…
We, at Resinate, are dedicated to providing workable solutions for all your technology needs. We emphasize strong relationships and lasting association with our customers and are committed to making technology work for you.
Our mission is to provide you with the best IT support 24/7, so technology works for you, not against you.
Remote Support
Resinate customizes its remote desktop and laptop support services to fit your unique needs. Whether you need your printer configured, new BlackBerry phone connected to your laptop, new computer peripheral installed and configured, your desktop or laptop fine-tuned or any other remote desktop and laptop support, we are just a phone call or a few mouse clicks away.
Let us get your computer up and running!
On-site Support Services
We understand how important it is for any household and business to have the workstation up and running 24/7. We offer onsite desktop and laptop support services. You don't even need to come to us with your computer or mobile device, as our technology experts and troubleshooters will set up an appointment to come to you and resolve your computer issues.
You can count on us for setting up, configuring, and troubleshooting your computers, mobile devices, and network.
We are ready to help you solve your technology problems.
All our services come with a 30 day warranty!
IT Consulting
IT Management
Identity and Access Security
Technical Support
Virtualization